Survey: The Positives and Negatives of Pet Ownership
This survey was conducted in 2023.  Respondents were followers of our page on Facebook so are somewhat biased by their interest in dogs and dog rescue.  We had 82 responses in total.

56% of our respondents were aged in the 50-70 years of age range with 23% aged between 30-50 and 17% aged over 70.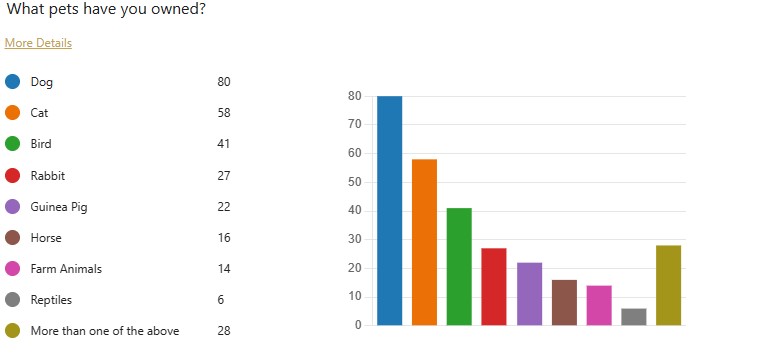 97.5% of respondents had owned a dog.
70% had owned a cat and 34% had owned more than one type of pet.
56% of people who had owned different pets, said that dogs had enriched their life most, followed by cats 18% and horses 6%.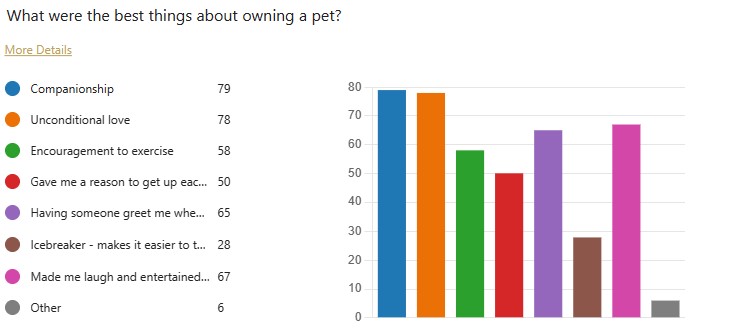 When asked the best thing about pet ownership, 96% of people mentioned companionship and unconditional love, 81% mentioned making me laugh and having someone to greet me when I get home, 70% said encouragement to exercise and 60% said that it gave them a reason to get up each day.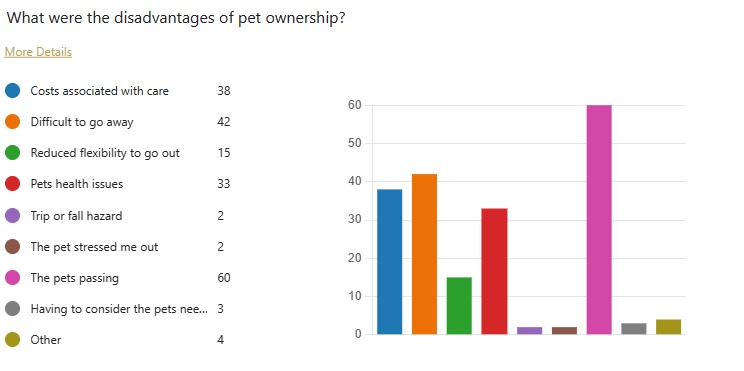 When asked what they thought the disadvantages of pet ownership were – the most cited disadvantage by 73% of people was the pets passing.  51% of people said that it made it more difficult to go away.  38% mentioned the costs associated with care and 40% mentioned pet health issues.
I was going to summarise the special experiences people talked about with their pets – but as each is so special – I thought I'd share peoples experiences as they described them:
Please describe any special experiences you have had with your pet/s?
The bond with them, raising them from pups, caring for them as seniors, having them sit with me each evening, their willingness to go along with whatever I feel like doing
I take my Toy Poodle with me when I travel.
One of my cats used to eat breakfast with me, work from home with me, tell me when it was bedtime and sleep with me.  He really was my best mate.
Nursing very young or ill kittens back to health and seeing them go to their forever homes.
Every day is special. Usually just have one dog at a time but adopted second one early on…. It's definitely a bit more involved.
Everyday I'm with my pets is a fantastic day. I even miss them when I work away from home.
My dog was my companion and my best friend. She was also very entertaining. Every experience was a special one.
The affection – they intuitively know when something is wrong
Our family dog pulled my brother from the river and wouldn't let him swim where he wanted to. My brother was only in the shallows and was only around 3 years of age. My mum kept telling the dog off and to leave him alone but he persisted until my mum took him out. Later a local told us there was a dangerous shelf just about 30 cms from where he was swimming. He would have dropped down many metres. He said the sign had been damaged and hadn't gone back up. So the dog really saved him.
My toy poodle loves me so much, she cuddles close in my chair and in my bed.   She is well loved with the other residents in my retirement village.
Kept me company all day when bed ridden for long period of time and helped relieve my depression.
Too many special experiences to mention, none really stands out as I have many, all my pets are family and are my world.
Childhood dog just knew when you were upset or down. She would just come over and sit then rest her head on your shoulder! Loved her dearly.
Our kelpie cross who we got from Animal Welfare when he was 10 weeks old, just knew when the cold meat from the deli (wrapping paper) was open, could be fast asleep but would be there in a shot.
They loved the beach as much as me.  Therefore, our trips to the beach.  They were there for me always, through grief and depression.
They are comforting when you're sick. I missed them dearly when I was in hospital.
The unconditional love and constant presence of the dogs I've had over the years helped me throughout some very dark times.
Traveling the great ocean road with my husband and puppies
My little rescue cat talks to me & pats me on the cheek to get up
It was wonderful to have a puppy that lasted nearly 17 years, but it's also been fulfilling watching my rescue dogs settle in and grow and relax and unwind. Some do it quickly others take years.
There are many many experiences from trips away to training breakthroughs to seeing the rescues settle in somewhere for the first time. However, the everyday experiences are some of the most special. My girl at the moment is snuggled up on my hip with her head on my tummy, I think she knows I don't feel well. That is very very special.
Just wonderful – always happy to see each other .. unconditional love xx ❤️🐾🐶
I have a 10 yr old boy I got from a shelter.  I only got him because my older dog was lonely. Unfortunately, from the time I got him at 9 mths he screamed when I left the house even though my older dog was with him did not change. I have had dog behaviourist in dog trainer vets' input, Prozac many other treatments nothing has changed there are days when he screams, I feel like I should give him away the only solution to this and this was from my vet . Put up with it or euthanasia. I still have him and love him but some days after going through chemo in the last 12 months he has become a challenge he is a small dog but very strong where he almost pulls me over,
I love having a close bond/connection with them.
With my last dog who was a rescue there was a special closeness, I think that he just loved getting a second chance in his new home. Sadly, we had him less than three years as he developed cancer, I still miss him terribly even though we now have a gorgeous 16mth old pup.
Very timid dog found it hard to get help within budget, so I didn't have to medicate.
I was on Holiday in Qld on a Station and my friends were due to shoot a Kelpie from another station…One look at this little girl and I knew I had to take her home.15hr road trip. Best thing I ever did. Miss Molly is my life saver.
My dog leaving without us knowing only to turn up on the field during my daughter's local soccer game.
My Burmese waiting for teeth and book time to settle my boy with ADHD to bed.
They are just like real family members ❤️❤️ we do everything together.
All of our pets over the years gave us unique experiences, more so our current 171/2 yr old if he was ticked off with something he would give a look that said it all
Her little face around the door 4.30pm come on mum time for my walk. 9.30 pm time or bed now. Every day.
Palliative care, damaged souls
While saying goodbye is awful, each of them have found a way to let me know it's time and in that moment, you just know that you love them too much to see them suffer.
My first westie came to me when I was going thru cancer. I really don't think I'd be here without her.  Jezabel was my saviour we both needed each other.  She lived over 16 years and I was with her until her last breath.  Pure love and dedication ❤   Now 18 months later I am blessed to have two rescue dogs. Just love them so much!
Travelling with them on holidays is fun, meeting other people with pet's and talking about them.
Going for jogs together, having him to cuddle with and lie beside me and allow me to stroke him.  His soft thick fluffy fur. The look on his face when I arrived home.
My two dogs both lived to be very elderly. Having them that long was lovely. The work involved in caring for an elderly dog with complex health conditions and medication regime was a lot. They're just so sweet and irresistible – you can't not do the work for them! Also, the constant vigilance, trying to tell if they're healthy when they're too old to be able to indicate to you that they're not.
So many with so many animals it's impossible to pick just one.
Brightening other people's day when we go for walks. Cuddling on the couch or in bed.
Not my horse but volunteer with horses and have cured me of my anxiety. My dogs have helped with depression.
My dogs and horses provide me with a beautiful loving connection and endless positivity and fun.
That special bond with each one is so unique & stays with me.
I was very unwell 3yrs ago and Missy wouldn't leave my side.  So comforting to have her with me.
Their ability to know when you are unwell.    Their unconditional love and excitement when they see you.
An amazing bond between my husband and our dog. They seem to know what each other is thinking.
They ask for only love and give you so much in return.
The joy of a travel companion. Better than a human.
Lovely cuddles & making me laugh.
Just having all my pets is special and a privilege.
I have severe panic attacks due to anxiety and my dog somehow "knows" when I am having an attack even if I don't have any outward symptoms (eg just sitting on the couch). When I have this she sit right up on my chest. The weight and comfort is really helpful. She is a gorgeous mini schnauzer, but she is also my best companion.
My dogs bring me joy every day, they are spoilt but well trained. A constant source of love and companionship.
Our Labrador could read your moods especially if the kids were upset he would just know.
The comfort of living alone with dogs is so much healthier than without. Seeing their smiling faces and wagging tails when feeding, walking, drives and content on the couch next to you or your lap ❤️
They have helped very much to ease my husband's cancer journey and given much comfort and joy to us both.
Every time they look at you with soft eyes.
Mr. Darcy is blind ..to see him navigate the house every day is amazing and his bond with Dougal is special.
My dog is my PTSD Assistance Dog. She is making my life better.
I am a foster carer and I find it difficult to say goodbye to the little ones as they leave my placements. Both my cat and dog pick up on my distress and are on top of me as soon as they leave. Their bodies on my lap warm me up and they stay there till I am settled then shadow me for the next 24hrs.
Too many to list over so many years sorry
Volunteering with Rexie as a therapy dog with dementia patients….priceless.
I can only say my life was empty without a dog.
When I get to spend time with the dogs and seeing them have a lovely time with friends and the kids, they love kids and it's very sweet.
Everything really. I can't really think of anything special. I just know my dogs have been my favourite companions.  I do know that they have all taught me something different. The key thing from all of them is to be in the moment.
I live alone – talking to my pets is sometimes the only conversation I have all weekend.
My cats were with me during some incredibly hard times in my life – when I broke up with someone following a DV relationship and then finding out I was pregnant.
After I lost my husband the constant companionship of my dog has helped me cope with my loss. It also has given me a reason to get up every day to take her for a walk and keep me fit and well.
Every day, mundane occurrences are made better by fur babies.
Seeing my dog's interaction with the people I see at the nursing home and people with special needs.
Rescuing my dog from a mental health situation, I knew she was being neglected but I couldn't do anything as she belonged to someone else. It broke my heart. 6 months later the owner was hospitalised and the family asked me if I would take her on. She is the most beautiful dog, and I can't imagine life without her.
She saved my life when I was considering ending it.
Every day is a special experience! Their company is invaluable.
Our dog unwrapping Christmas presents that weren't his.
Meeting other owners with similar animal
We always take our dogs on holiday with us.  We've never had an issue and they are part of our family we can't leave them behind.  We did have a caravan until recently and that of course made it easy, but now we use dog friendly cabins.  It works beautifully.  Dogs particularly are not difficult to tend to it becomes second nature.  If they become sick you deal with it.  The vets are always so good and usually sort the problem out without too many difficulties.  Our dogs are regularly checked to ensure they are in good health and vaccinated when due.
Just the daily unconditional love we have received from our own dogs and foster dogs.
Do you think that having a pet has directly affected your health – either positively or negatively?  If so, how?
Positives
Has absolutely had a positive effect on my health, decreased depression, given me comfort, entertained me and made me laugh, got me outside walking.
They always have a positive effect, but when they are sick or dying then it impacts negatively at the same time with worry, stress, anxiety and depression about their illness or late life stage. All the positive experiences and love though always make it worthwhile doing it all again. And I'd do it all again in a heartbeat.
Positive effect on my health.  Purring is calming and I love sleeping with my cats.  They make me smile with their antics and know when I'm feeling down.
Positively for sure. Even on my darkest days, my pets are there for me.
Positive…. Don't think I would still be here without them.
Positively. Got my hubby and I through several miscarriages and failed IVF.
Enriches my life.  The excited welcome home to the over-the-top barking at me to chase him and play hide and seek.  He makes me laugh; we just have fun!
Yes, positively. I have a serious illness and he just knows when I need that extra cuddle and will stay by me for hours just watching over me.
I am encouraged to walk by her wanting to go out, and she has also been a great comfort in times of stress.
Dogs are great for helping live a healthy life, if you don't take them out daily for a walk, they make you feel guilty, as it is the best part of their day.
Positively, companionship, someone to talk to and unconditional love
Definitely positive.  Giving me a reason to get up..facing each day. Hugs cuddles when I need them.
Positively, gave me structure and companionship.
They give me a reason to smile every day.
Positive – good for calming anxiety
Most definitely positive, my kids don't bother about me but a pet's love is unconditional.
Yes. In a very positive way both physically and mentally
Definitely positively. I have multiple health conditions and had some trying times in my life and my pets have always been the ones who stick by you, no judgement, wanting nothing but love and food.
Yes, most definitely .. social interaction with everyone and getting you out in all weathers.
Positive gets me up and moving daily.
Positive. They give me joy and allow me to breathe.
Most definitely positive they help chill you out. Even on a horrid day when I've been at my lowest sitting on the floor the dogs have come up and sat by me.
All pets affect your health, just seeing the life in their eyes and face.
Positive for mental health and physical health
Exercise and companionship
100pc absolutely – Fully positively! I live with pain every moment of my life and those beautiful dogs are just there.  My darling little shadows! They make me so happy ♡
I'm sure they keep you healthier having their health in mind and the joy they bring, they just love you.  Except for the one who would sometimes feel like biting us, little darling.
Positively as it allowed me to have someone to talk to, someone to receive unconditional love from.  Plus rubbing his fur was soothing.
They're very good for mental health. They make me laugh at least once every day. They make me smile many times a day. When they're sick or unhappy it is certainly stressful, but the benefits outweigh this.
They have definitely kept me sane in very difficult situations.
Positive affect on mental health. They make you smile and laugh even on the worst days.
Yes, positive effects only. Companion, helped with mental health. Keeps me physically fit.
Positively, stress management and enhanced mental health.
Definitely positively!!  Our Cavalier has such a beautiful nature and calming effect.   Love having her close to me.
Definitely helped with managing depression. A calm and comforting presence and also exercising/walking helps with depression and is good for general health.
Positively affected my health, don't feel lonely, keep me active, not frightened to be home alone.
Yes, in a very positive way. She has been crucial in both my, and my husband's mental health after a significant bereavement.
Only bring joy that is positive to your health.
A definite positive in my life. As I live alone, the companionship is wonderful.
Both, but positive mostly 😊 – Positive – fun, love, cuddles, walking partner.
Positively because each day for many years. I have learned about raising animals naturally & holistically with better nutrition and natural therapies , this has opened my eyes and influences me to practice the same for myself, benefit is better health for all of us.
Positively for anxiety and also I am more active just from playing with and walking the dog.
Yes, definitely positive.
Yes, for sure. When I was ill in hospital I couldn't wait to get home for hugs and kisses and when making new life choices.
Positively in every way. Exercise, sense of security, joy, calming influence. Sometimes just giving us a really good reason to keep on swinging one leg after the other! They help make the abnormal normal.
Positively- daily walks, mental health especially during the covid work from home period (I live on my own)
My only reason for my existence. (I have acute depression)
Positively. In every way.
Yes, it has in a very positive experience. They keep my blood pressure and stress levels down.
Positive impact, recent health issues and the companionship and unconditional love to simply be with me when I could do very little was priceless.
Positively for sure. They make me smile and laugh every day…..important for everyone but particularly someone with anxiety and depression, xx
I am a very social person and am involved with many activities in my community. Therefore, when isolating because of a positive covid test I could feel myself becoming depressed. I began looking for a fur baby and became a mother again on March 15th. This was just what I needed, my life is complete, and my heart is full.
Positively on the whole. It's done a lot to help me with getting up and going out and meeting my neighbours and other new people.
Definitely exercising my dogs has kept me more mobile than friends of my age. Also, the social aspect of being out with a dog and have social interactions with people. Other than my dog I live by myself, so the social interaction is really important.
Very much positively – gets me out of bed, gives me something warm to hold, gives me responsibility.
Yes. I have been on two daily dog walks for the last 16 years; I live alone but am never lonely with a dog to keep me company, so my mental health is helped by them too.
It's positively helped me – they have been my strength and my company.
Yes, more active, better relationship.
Positively they fill your life with so much joy
Yes – healthier in body and mind.
Yes, it has a positive impact on my day-to-day mental health.
Yes. Positively unconditional love.
Positively – a walk was high on the agenda so good form of exercise.
Positively except of course when they pass away.  We had two die within two weeks of each other in July and August 2021.  It was the saddest time and I still grieve the loss of my little Cocker Spaniel, he was my boy but we now have a beautiful Border Collie and she keeps us on our toes. She's a busy little girl and loves life .  We love her and enjoy her immensely.   As we have always had two dogs we are now looking for another dog as a friend for Gypsy.
Most definitely in a positive way, helping with depression, anxiety and PTSD.
Good and bad probably made me go out more so good for exercise and socialising with others, worry about pets' health and their health issues impacted my health negatively in terms of stress and monetary issues to pay for vet care.
Positively-exercise, emotional wellbeing.
Negatives:
Shedding hair makes my asthma flare up.
When they are sick or dying it impacts negatively with worry, stress, anxiety and depression about their illness or late life stage. All the positive experiences and love though always make it worthwhile doing it all again. And I'd do it all again in a heartbeat.
I'm sure they keep you healthier having their health in mind and the joy they bring; they just love you.  Except for the one who would sometimes feel like biting us, little darling.
They're very good for mental health. They make me laugh at least once every day. They make me smile many times a day. When they're sick or unhappy it is certainly stressful, but the benefits outweigh this.
Negative – stressed during toilet training & frustrated with hair/mess in the house.
The only negative is when they pass.
Negatively- the emotional pain when they pass.
Positively except of course when they pass away.  We had two die within two weeks of each other in July and August 2021.  It was the saddest time and I still grieve the loss of my little Cocker Spaniel, he was my boy, but we now have a beautiful Border Collie and she keeps us on our toes. She's a busy little girl and loves life.  We love her and enjoy her immensely.   As we have always had two dogs, we are now looking for another dog as a friend for Gypsy.
Worry about pets' health and their health issues impacted my health negatively in terms of stress and monetary issues to pay for vet care.
93% of our contributors responded positively to this question.  13% of these people cited both positives and negatives associated with having a pet.  No-one cited only negative impacts.
Please tell us about any other aspects of pet ownership that you consider are important that have not been covered?
It's important to introduce newcomers slowly and be patient with the timid ones.
I think not everyone understands that pets are a lifetime commitment. In rescue we see too often that pets are seen as disposable.
Finding great respite for them is necessary, not everywhere likes dogs. Another expense. Insurance is sometimes not much use. Allergies, anxiety, illness, food preferences. exercise….. All needs to be considered.
Intuitiveness and healing an animal brings.
Having that special greeting when you arrive home. Something to communicate with.
Having the right breed for both your needs is important. We took time to find that breed then the right pup. We have always had rescues but as life changes sometimes you may need to think forward as to how you can continue to meet needs. Dog education and responsible breeding should be encouraged more. The other thing is nursing homes allowing small animals to be part of the elderly lives. The separation of older pets and owners is just so hard on both. Same as day to day and vet care. What programs could be put in place to help with keeping them together at home too.
Having a pet does give one a reason to keep on going, they have to be fed and cared for.  They also help to create relationships with others who are more likely to talk when walking.
Unconditional love and cuddles, companionship, exercise buddy to keep me active.
Having a puppy is the best experience, teaching them discipline, training them from a young age, also an aged dog to love, you will have a best friend for life.
Being a responsible pet owner and ensuring you can always take care of their needs in sickness and health! They are part of the family and should be treated with love and kindness.
A big part of my family.  Cherished and loved the same.  Always and forever
People talk about the cost and inconvenience involved in their care, kenneling when going on holidays but it's a very small price to pay for the love and comfort you receive in return. They are constant and only ask for your love and presence.
Long term commitment to love and enrich their lives.
People need to really consider everything before they take on the commitment of pet ownership, it's so heartbreaking when the pet gets let down by the owner.
Pet insurance is too expensive and there are so many limitations when you have an old dog including rescue. Some follow up to check on the dog etc when you rescue from AWL, RSPCA. Challenges when you can't drive through medical incident or older age. The dog doesn't get the variety of outings etc they may be used to.
Think and hope I've convinced you .. a house is not a home without a dog .. our dog is so missed😪
Cost of vet bills are out of control (my dog had itching problems ($37) for 5 tablets when I worked out the cost for 100 tablets from the vet it would have cost me $750 for 100 tablets.  Even if they charge you $20 for a script go to one of the pet pharmacy's online you will save heaps of money.
Can't think of anything else at the moment. Good luck with the project & enjoy your course, it sounds really interesting!