Introduction
The reason we are now involved in dog rescue – is a little Maltese dog called Theodorus Rex Harrumphah The Third- or Ted for short.
I got Ted as a tiny puppy and he absolutely stole my heart.  I hadn't had that much interest in dogs prior to that.
Ted taught me about unconditional love, about loyalty, about enjoying the moment, appreciating the little things and about the value of lush green grass.
He taught me about the value of a senior dog, coming to terms with mortality and accepting life as it comes.
Most of all – Ted taught me that the pain and grief of losing him at nearly 16 was worth every tear for having had the privilege, the love and the joy and laughter that he brought to my life – every day.
Ultimately, Ted taught me the value of loving a dog.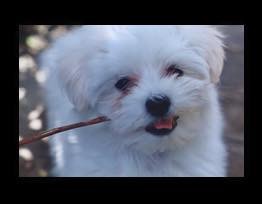 What we do now is honour Ted's legacy – and try to help dogs have a better life – because – Ted made my life so much better.
I want other dogs to experience the kind of life Ted had – and to have the opportunity to give their new families the kind of love I got from Ted.
After fostering for a small breed dog rescue for 12 months – we decided we were ready to start our own.
We will do our bit to take in dogs that need care, attend to their health needs and get to know and understand them, so that we can find them that kind of future – and so they are healthy and ready for it.
Rescues are most successful when lots of people are following and sharing – so I'd love it if you would invite your friends to like our Facebook page and share our posts – often – and check back in on our web-site to see what we are up to, and what adventures have been had by the "Hope Springs Gang".
I ask you to assist me in whatever capacity you can to help these little dogs on their way to a Ted kind of life and a lifetime of love.
We're looking for people who might be interested in helping us get established – perhaps being a part of our Committee who will decide what we will focus on, how we will operate, how we will raise money and how that money will be spent.
We need foster carers, and some people who might be keen to review adoption applications, reply to enquiries and undertake home checks.
Initially, we will be self funding – but we'd love to have some people on board who are innovative, creative and good with fundraising and wouldn't mind being involved in setting up and running some fundraisers.
We want an inclusive group where people are involved and we can speak from experience now when we say it is very rewarding to take a little dog into care, watch them gain confidence and blossom and then find them the perfect family.
I was  really trepidatious (yes I've made up that word!) about setting up my own rescue – because there are already so many out there and lots of worthy causes all seeking the donation $ but I am spurred on by this  – which I have printed and put on my wall as encouragement.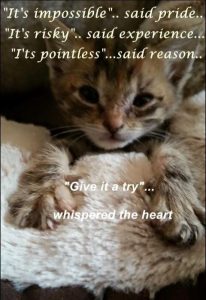 So………..here's giving free reign to the heart and the pitter patter of little feet🐾❤️🐾
Keep Ted's Legacy going!  Chris and Ray