Cuddles and Co Pet Therapy Visits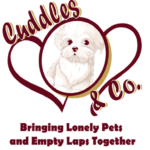 Some of our Mystic Maltaliers are now working with their owner's to provide pet visiting services to Aged Care Facilities and to people with a disability or seniors who love pets but can't have one of their own due to health, finances, or living arrangements.
Aged Care Facilities
One of our teams can visit your Centre for a one hour or two hour visit with a calm and friendly dog to interact with your residents who may be interested.  The fee for our visit is $60 per hour and our visits are generally of one or two hours duration, depending on the size of you site. Our dogs are well groomed and well behaved.  We bring them in a dog stroller so that they are at optimum height for residents to pat and interact.  The dog's handlers have had National Police Checks.  We carry antiseptic wipes, undertake a RAT test prior to our visit and once we are familiar with your site and your residents can work autonomously to visit with residents.  We are happy to meet with you and discuss your preferences for a visit – perhaps visiting residents individually in their rooms or we can see them in common areas.
We would like to offer an introductory visit at 50% so that you can determine whether our visits are something that works positively for your site and for your residents.
If you're interested, please complete the attached registration of interest form and post back to us.  We'll then give you a call to organise a time to chat further.
Visits to Individual
One of our teams can also visit an individual or group in a disability group home regularly at a cost of $60 per hour.  Our introductory offer of 50% discount is also available to individuals or small groups wishing to see whether this is a service that meets their needs.
Benefits
The benefits of spending time interacting with a pet have been well documented and can include a reduction in blood pressure, increased feelings of well-being, reduction in stress levels, an increase in levels of serotonin and dopamine, leading to calmness and relaxation and feelings of happiness and wellbeing.
Payment
We can accommodate payment via cash, invoice, credit, direct bank deposit or via Capital Guardians for facilities that use this means of payment.
Meet our Dog Team!
Meet our People and Dog Teams!
Some of the residents who have enjoyed pet therapy visits
Reviews:
July 2023
My name is Beth and I am the Community Connector Lead at Highercombe Nursing Home.
Angela and Willow have been visiting here weekly for the last few couple of weeks and I just wanted to express my gratitude and appreciation for all of the excellent work that they provide to us here.
Angela always presents herself on time and her manner with the residents is absolutely fantastic. She is professional and empathetic, caring and most kind. Angela and Willow make their way around the entire site – visiting almost everyone! That's 126 bedrooms! This is no small feet. They work hard, yet they make it seem like such a breeze.
Willow's visits are a highlight of the resident's week here – the therapeutic effects that Cuddle and Co provide for the elderly here is undeniable. The connections that they are forging are truly making a huge difference to the residents lives here.
Please pass on our thanks and upmost appreciation to Angela and of course the beautiful Willow.