Graduates
Dogs that have previously enjoyed a farm stay at Hope Springs
The following dogs have all enjoyed a farm-stay at Hope Springs while we were fostering for another dog rescue group, who are passionate about what they do and dedicated to helping small fuzz-butts.
It was an honour and a privilege to be part of the story for each of these little dogs as they transitioned from one life into another
Fifi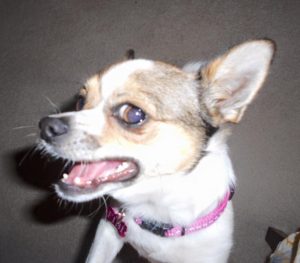 Fifi – our first! Sweet little chihuahua – loved Ray and BJ and looking out for rats in the wood-pile. It's a chihuahua thing! Went to a lovely home with another little  foster furry – and their mum adores them both.
Miss Crazy Maisie.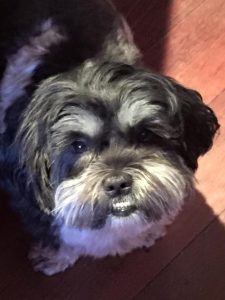 Came for a foster flurballed her way right into Ray's heart and is still here – adopted by the Moore's.
Making sure no-one took her Christmas present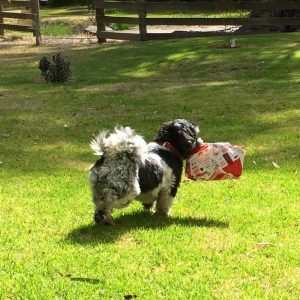 Fatty Boxhead – Ray's No. 1 Girl – also known as "The Lummox"
Taz and Snowie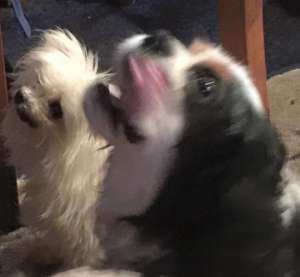 We picked up Taz and Snowie just before Christmas 2014. Big big family with 9 kids – who loved their dogs – but couldn't afford their medical costs. Taz had advanced heart problems (common in Cavs), eye problems, hay fever and 7 grass-seeds in one ear – that he just let the vet remove while he stood there! While in care, he had X-Rays and an ECG and was on 5 different medications twice a day.
Tazzy Tailwagger wasn't very comfortable going out on walks – but loved a ride in the car – so he was front seat dog and side-kick when pizza had to be picked up or a quick trip was required. The Tazz-Man worked his magic on me – I so loved this guy – and I held him while he passed away – a very short 3 months later – from his heart problems.
Snowie is a funny little character and enjoys a good conversation with Ray
She is quite stiff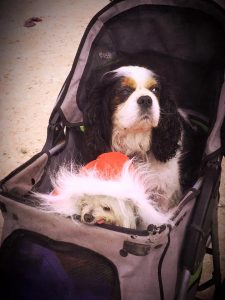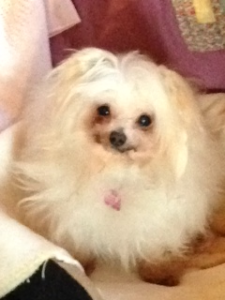 in the back legs and bounds along like a little bunny – so is nick-named Bunny – or Snow-Berry.
A walk at Laratinga Wetlands for the oldies. This was their last outing before Taz passed away – the next day.
Roxie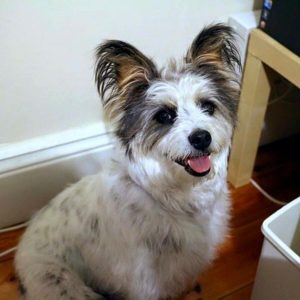 Roxie – beautiful girl – loves balls and walks – but didn't enjoy the number of other dogs we had here, so went another foster carer.  She has now been placed with own loving family.
Roxie strikes a pose
Pippi Longstocking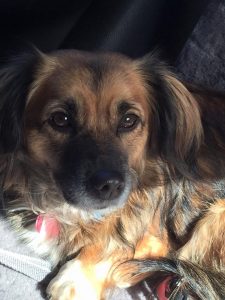 Pippi came from a lovely family with young children. She is a beautiful girl but sometimes felt anxious about the exuberance, noise and unpredictability of young children and snapped. Pippi had a great stay here – loved walks, loved bones and treats and played chasey and had play rumbles with Maisie each day.
Pippi was adopted by a lovely man who has all the time and patience to help Pippi become more confident and she has a doggie sister to play with, and for company when Dad goes out to work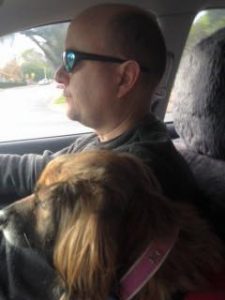 Off to her new life. Ray and I both find this part a little hard – and a bit emotional. We miss them and worry about how they are settling in and whether they wonder why we've left them. We usually receive some updates on how they're going from their new families – and if we're lucky – we see them again – happy with their new family.
Lolly
Lolly – absolutely loves her ball. Lolly would wait at the gate at 6am – ready to play ball!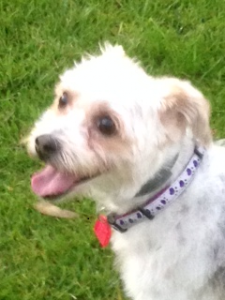 Lolly's family also had a young rambunctious child – who made Lolly very anxious. They were concerned she might bite him.
When Lolly first came to us – she was very timid, nervous and anxious. We struggled to even get her out of the car and she would wet herself with fear. But when you gave Lolly a game of ball – she transformed – that was her happy place – and playing ball created the bond and the trust for her to build her confidence with us. She also enjoyed a long walk and a play wrestle with our grand-daughter.
Lolly has a lovely home where she will go camping, loves going out in the car, knows when her Dad is going to take her out on a walk and has s couple of cats and a little dog sister for company.
Scotty and Charlotte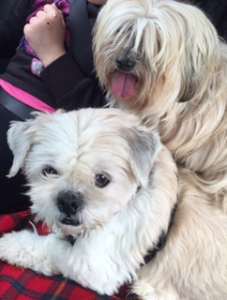 Scotty and Charlotte and our grand-daughter.
Scotty and Charlotte came to us from an animal shelter who were overflowing. Scotty had ear and skin infections associated with allergies and 5 different pills and potions to be applied twice a day. Charlotte was very frightened and is very dependent on being with Scotty.
These two spent their lives living outside and producing puppies. When they required expensive vet treatment, they were surrendered  – as their owner couldn't afford their medical costs.
Whilst staying on the farm, they came to appreciate the value of a comfy couch, and a stretch out and sleep in on our bed on weekend mornings, had a double 'marital' bed they slept in together, came to enjoy a great walk down country lanes with occasional sightings of rabbits, had adventure walks at Mt Barker Summit- up and down quite steep trails and climbing over and under things – with many new things to sniff (and pee on) and both especially enjoyed bone Saturday – a good chew on a meaty bone out in the sunshine – on the deck!
These two were very sweet, very bonded and a joy to have around. What they still needed though – was their very own family – where the love and attention was all for them and didn't have to be shared amongst several other dogs.
Their lives are now complete. Scotty and Charlotte have their very own family – where they will be loved, adored and treasured for the rest of their lives. Plenty of cuddles, walks to the park complete with duck pond and regular outings to the beach.