Hope Springs Eternal Dog Rescue, Rehoming & Retirement Inc. Official Website Launch
Hello Friends,
We have been fostering for a small breed dog rescue for over 12 months and have decided that we are ready to start our own venture based at the beautiful Hope Springs in Mt Barker Springs.  We established ourselves 6 months ago and we plan to focus on: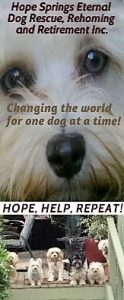 Assist in the rehoming of small breed dogs – who need to find a new home for various reasons
Assist with a retirement home for seniors who are not able to be adopted
Assist with short term care for pets of people who are doing it tough – where they need to go into hospital or find new pet friendly accommodation
Assist with funding to cover pet medical costs to enable people experiencing financial hardship to keep their pets
Offer a Pet Memorial Garden with a choice of tree, shrub or rose planted in memory of a beloved pet with a plaque in their memory, in a beautiful serene country setting
Rescues are most successful when lots of people are following and sharing – so we'd love it if you would invite your friends to like our page, enjoy, and share our posts – often.
Help with Goals and Direction:
We're also looking for people who might be interested in helping us get established – we need a Committee who will decide what we will focus on, how we will operate, how we will raise money and how that money will be spent.
Help with caring:
We'd like some foster carers, holiday carers, and some people who might be keen to review adoption applications, reply to enquiries and undertake home checks.
Help with Fundraising:
Whilst initially we will be self funding – we'd love to have some people on board who are innovative, creative and good with fundraising and wouldn't mind being involved in setting up and running some fundraisers (BBQ's, bake sales, Trivia Nights, Movie Nights, Theme Nights, Party Plan Fundraising – or other events.
Help with Promotion:
We'd also love to have some people on board who would be happy to promote our services at shopping centres, community events, school and community groups and to the media.
Help with Craft or Other Skills:
We'd also love some people who would like to help us by knitting or sewing (dog blankets, coats, jumpers, pajamas), bake for our fundraisers, help source merchandising opportunities – or anything else that you're really good at – and that will help.
Create Social and Support Group:
We want an inclusive group where people are involved and I can speak from experience now when I say it is very rewarding to take a little dog into care, watch them gain confidence and blossom and then find them the perfect family.  Its great to share those experiences with a group of like-minded people who are passionate and have a common desire to make a difference.
There are lots of ways to be involved – so if you're keen and you have something to offer and would like to be a part of – Changing the world for one dog at a time – please contact us either via email, message, Facebook or phone to talk about the opportunities for you, for us – and for the puppies!