People Doing It Tough in S.A – Pay It Paw-Ward Pet Medical Emergency Fund
We are seeking to help those doing it tough by:
Offering short term boarding for the pets of people who need to go into hospital or find alternate pet friendly accommodation and do not have family or friend networks and supports to assist them
Establishment of a pet medical emergency fund called the "Pay it Paw-ward Program" to assist those who are unable to afford vet fees for their pets or can not afford the cost of humanely putting their pet companions to sleep where that is the only appropriate option.
What is the Pay It Paw-ward Program (PIPP)?
Can you imagine – what it would be like if your beloved pet needed medical assistance and you simply did not have the money to pay?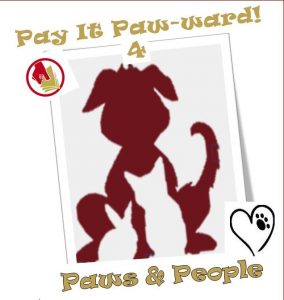 Can you imagine the worry, the heart-ache and the guilt—if you were unable to afford the care that might mean the world of difference to your dog or your cat—and their quality of life and future.
This is sadly the reality for people who might be doing it tough financially. Sometimes they have no option but to put their loved fur-family member to sleep because they can't afford the medical treatment they need—or they have to surrender them to a rescue or shelter so that they can get the help they need.
Sometimes—they can't afford even the surrender fee for a shelter.
Often a dog or a cat is all a person has—and means the absolute world to them.
Their pet gives them a reason to keep getting up in the morning, provides them with company and gives them unconditional love.
Could you help?
A small donation will go towards helping someone in need afford the vet medical help they need.
Why not—Pay It Paw-ward?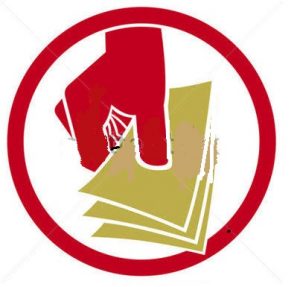 How does it work then?
Pay it Paw-ward is a program established to help people pay for medical treatment for their pets—where they find themselves without the finances to afford their pets care.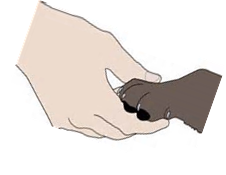 The fund is made up of money raised from:
 Specific fundraising   events
 Community Funds
 Purchase of Pay it Paw-ward merchandise
 Grants
˜ Donations
˜ Vet discounts
 Bequests made in memory of a beloved furry family member
 People contributing a small extra amount whenever they pay for a vet visit for their own pet —that will accumulate to help others
The success of this program will be dependent on the support of Vets and Veterinary Practices.
This program will enable Vet Practices to support their furry patients and their owners—particularly at times that they may be most vulnerable. Often people are unprepared for medical/vet emergencies—and the costs can be high—depending on the health issue.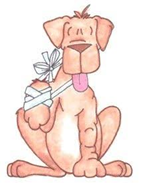 This program enables people that wish to—to pay an extra amount from $1 to $100 when they are paying for their own pets treatment, to PAY IT FORWARD.
The Vet Clinic simply records the payment as a separate item, and makes a direct funds transfer or a Paypal payment to a community fund.
Alternatively, people may choose to purchase a Patch Paw-ward or Puss Paw-ward online via their local Vet Practice or at home and part of the proceeds will go towards the fund.
Those that need assistance will be able to apply to the fund and if approved, payment will be made directly to the treating Vet Clinic. We would ask that the Vets participate in kind by providing services at cost to those approved for assistance.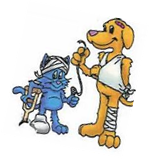 Please give us a call to have a chat about getting on board and supporting this great community cause. We will provide promotional materials, fund-raising tins and online services.
Who can apply for assistance and how?
The fund will be established and maintained for the assistance of pets in medical crisis.
It will be administered with Volunteer effort and financial assistance will go directly to the treating Vet to pay the veterinary bills.
To apply you must be:
A person or family who genuinely cannot afford to pay for necessary treatment of their pet. Owners will be on a pension or benefit or experiencing financial crisis.
Except in circumstances where humane euthanisation is the only viable option, treatment should result in a positive outcome and assist the pet to live a happy, healthy life.
There may be a maximum limit on the amount of financial assistance available
The treating Vet must be prepared to reduce their fees to replicate the not-for-profit status of the PIPP – the owners should contribute as much as they can afford and the PIPP will decide what funds are available to contribute to the costs.  As charitable donations need to be used as effectively as possible – it may be necessary for applicants to pursue more than one vet quote for the required treatment to ensure the best value.  Preference will be given to a treating Vet that will discount.
Successful application support will depend on how much money the fund contains.   Not all applications will be successful but the Program will consider each application and try to apply funding assistance equitably and based on merit of the application.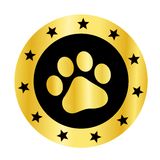 Interested and like to help?
We are looking for people to:
˜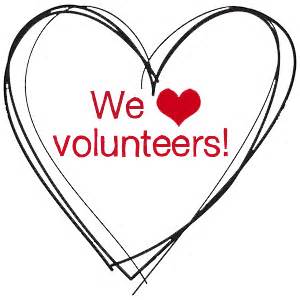 Help us organise and co-ordinate fund-raising events
Help us engage Vet Clinics to sign up to the program and explain how it works
Help us promote the Pay it Paw-ward Program at publicity and promotional events
Help with encouraging corporate sponsors
Help with receiving and assessing applications for assistance
Support our program activities and help keep them sustainable
Help with finding merchandising and marketing opportunities
Volunteer as a Care Co-ordinator
Volunteer as a Carer
Interested in Donating?
Why not consider making a donation in memory of a loved fur family member – or perhaps a monthly direct debit?  We have Deductible Gift Recipient (DGR) status – so we can issue a tax receipt and you can claim your donation.
If you'd like to donate: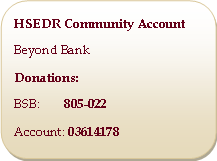 Please put Pay it Paw-ward or PIPP in the reference field.
Thank you for helping to:- "Keep pets and people together"