Movie Night – A street cat named Bob
Date/Time
Date(s) - 17/02/2017
7:00 pm - 10:00 pm
Location
Mitcham cinemas
Categories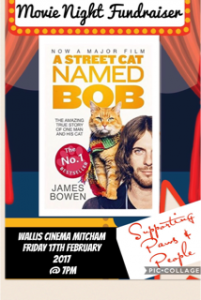 We've finally found the perfect film to kick-start our first ever Movie Night Fundraiser! Based on the internationally bestselling book, A Street Cat Named Bob is a feel-good true story that will move and inspire you.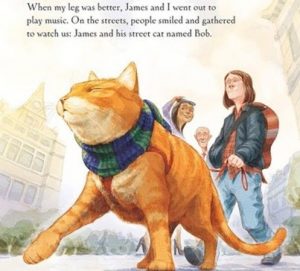 When James Bowen found an injured, ginger street cat curled up in the hallway of his sheltered accommodation, he had no idea how much his life was about to change. James was living hand to mouth on the streets of London and he thought the last thing he needed was a pet. Yet James couldn't resist helping the strikingly intelligent tom cat, whom he quickly christened Bob. He slowly nursed Bob back to health and then sent the cat on his way, imagining he would never see him again. But Bob had other ideas. Soon the two were inseparable and their diverse, comic and occasionally dangerous adventures would transform both their lives, slowly healing the scars of each other's troubled pasts.
This is a story that resonates deeply with the people and pets we help, and we are thrilled to share it with you as well. Join us for a great night of entertainment, while raising valuable funds for Paws & People.
Why not get a group together – perhaps even a work crowd or team and come along for a night out and support a great cause at the same time.
Come early – have a chat to us – have a drink and have fun.
Tickets $28.00 per person – includes either popcorn and drink or choc top ice cream and drink.
Bookings
Bookings are closed for this event.