Lola and Luka's Happy Tail
Bony and Blue (now Lola and Luka) came into our care with four other Chihuahuas  from a breeding establishment.  They are very timid and reserved and have been hard to get to know well.
A lovely lady called Lindsey has taken on "The Blues" and is prepared to give them the time, the patience and the love they need to blossom into the best dogs they can be who can live their best lives.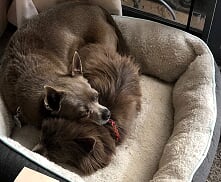 Happy Tails Lola and Luka!