Saxon's Happy Tail
Saxon's Mum broke her hip and was in hospital for an extensive period of time.  Fellow church-goers helped out by attending at her home and feeding Saxon for five weeks but when it became apparent that she could not return to independent living, we were asked to find him a new home.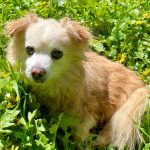 Saxon went into care at #laurenceslodge.  Saxon's a senior chap who is mostly blind and deaf and has some mobility issues.  However he enjoys a comfortable bed, a little cuddle and dinner time – and certainly lets his family know if dinner is late!
We've found a lovely family for him who are well versed in caring for aged dogs with health issues and he has happily trained them to accommodate his needs!
Happy Tails Saxon!