Missy's Happy Tail
Missy came to us when her family who had a number of small children and a new baby couldn't cope with her sudden onset of crying and barking during the night.  It may have been due to a pretty nasty ear infection, her going deaf or the stress of a new baby in the house.
She went into care with Pam and Neil who adopted Ollie from us, previously.  Her and Ollie got on straight away and she quite enjoyed having another dog to cuddle up with and play with.
We discovered that she had some heart issues and she commenced medication.  Now that her ear infections have cleared up, some of her hearing has returned.
She won Dad, Neil over first and then turned her attention to Mum, Pam.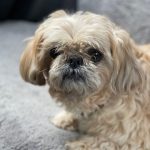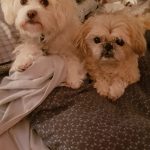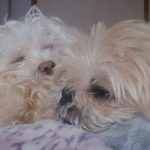 Needless to say, Missy has found her happy tail!