Ebony's Happy Tail
Ebony came into our care when her owner passed away unexpectedly.  She is a gorgeous Scottish Terrier who does a lovely happy Scottish jig when she's happy (like when you get home and at dinner time).
Ebony was from a litter of 5 swimmer pups (who struggle with splayed legs early in life).  After intensive therapy they were all able to walk and whilst four were returned to their breeder, Ebony was adopted out to a family.
Her breeder had no idea what had become of her – and it is completely serendipitous and coincidental that the family who applied to adopt her – were one of the family's involved in her breeding.
Ebony now has two other Scottish Terriers for company – Holly and Rory.  She has settled in with her new family and enjoys helping with homework and snoozing with Dad!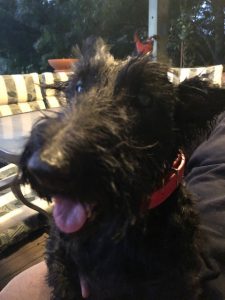 Happy Tails Eponee Rae – You were a joy to care for!