Casey
Casey came into our care as her young owner moved interstate for work and could not take Casey with her.  Casey had been her best friend for 11 years.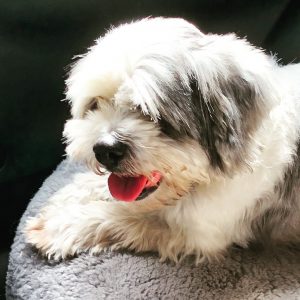 When I went to pick Casey up – she snuggled right into my shoulder and I felt an instant connection with her.  I wrote her this poem:
I LOVED YOU THE MOMENT I MET YOU
I saw your sweet face and your very sad eyes
Before I saw the massive lump on your very small size.
I picked you up, felt the touch of your nose,
You put your head on my shoulder and snuggled in close.
It was at that moment that our hearts connected,
I so wanted you – to feel protected.
You lay in my car and you gave a big sigh
The state you were in – made me want to cry!
I chatted to you and I told you just wait,
Life will get better – it's gonna be great!
We'll sort out this mess and you'll have lots of fun,
You'll eat lovely food – and can have a good run.
When we bathed you and I saw and felt the full extent of your state –
Reason told me – we might be too late.
I lay awake for hours – thinking that the wait.
Had very likely signed and sealed – a sad and tragic fate.
But hope springs eternal and I did dare to hope,
Though tough surgery in your state – how would you cope?
With hope in my heart and prayers on my mind,
We went to the vet – to see what they'd find.
Some signs were good – your heart beat was steady,
Blood flow was good – perhaps you were ready?
But hope was shortlived – and tests today found –
The illness had already gained major ground.
Oh honey I wanted so very much more for you,
I wish there was something more we could all do.
But we'll wrap our love around you –
Love will carry you along
And when we say Goodbye to you
You'll not doubt that you belong.
Your little life does matter
To us you're so special
You exchanged a piece of your heart
With the hearts of one and all.
You'll never be forgotten
You'll live on in our hearts
We will talk of you – and memories mean
We'll never be apart.
A Hope Springs family member – you will FOREVER be
And in our special garden
Your soul will frolic – Free.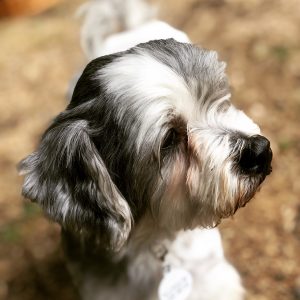 Sadly, we realised quite quickly that unattended mammary tumours meant that Casey's time with us would be short.
We set about to ensure that the time she had left was fun and enjoyable for her.
She loved a wander down the back and a good roll in the grass.
She also loved going to Laratinga Wetlands for a walk – where she would take her time and have a good sniff of everything.
We also took Casey to the beach for an outing – where she met lots of other dogs and people, paddled in the water, dug in the sand, chased seagulls, ate vanilla ice-cream and watched the sun go down.
She enjoyed her food and was a happy little dog – right up until the end.
I held you today………..
I held you today as you passed away – I really wanted – to beg you to stay
But I looked in your eyes – and I heard you say – I'm sorry but – today is the day.
We had a long cuddle and I stroked your ears – I felt your heart and you felt my tears
I whispered – it's okay honey, I know you're worn out – And you don't understand what the pain's all about
Thank you for allowing me – to be – your friend – And to be there for you – as you come to the end.
On the way to the vet – I patted your head – And I wished we could go – somewhere else instead
You turned your head to me – And I looked over to you – I didn't know If I could do – what you needed me to.
It's such a hard thing – to knowingly bring a life to a close – As others who've had to do it – would know
Right now you're here – but when we enter the door – Your light and your spirit – will be no more
The emptiness on leaving is hard to explain – Your collar in my hand – the only thing to remain
That you're now gone forever is hard to comprehend – The knowing that I'll never see you again
I so hope you were happy – and knew you were cared for
Though our time was short – we loved you so much more
I hope you're now rolling in grass that is silky – with blue skies above and clouds that are milky
Where butterflies dance without a care – and the gentlest of breezes ruffles your hair
I hope there are flowers as pretty as you – in lots of colours and every hue
I so hope it's true that I'll see you again – when our time down here comes to a close
Until then my sweet – you're a puppy again  – you can frolic freely – there's no pain – now – you know.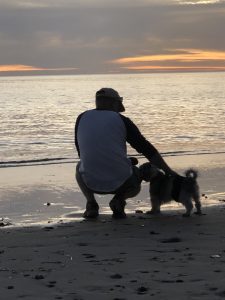 #hopespringseternal🐶 #rescued #adored #casey🥀 #nomorememories