Sophie Jane Great White Terror (Terrier) – 16 May 2016
Yo Peeps, Today is a very important day in Hope Springs Eternal history.
We are staging an industrial revolution. It all started with the outrageous use and abuse of Snowie and her "cuteness factor" to tug at peoples "Awww" reactions – and her being taken to work and made to stay awake for hours on end – attending meetings, mediating disputes, negotiating outcomes and just being generally cute.
Despite several requests and her very best please – I'm so very cute, faces – Snowie remains un-remunerated for this work – and there is general feeling that these Dog Muvver and Farver Peeps have an OUTRAGEOUS EXPECTATION that we dogs – should in fact, contribute to the household in some meaningful way and earn our keep – even if it is just looking cute in photos and engaging with the Hope Springs Community.
We've all had a round bowl discussion about it and chewed the fat (off our meaty beef neck bones) – we've put it to the vote – and I – Sophie Jane – Great White Terror (Terrier) have been duly anointed and appointed – as the Hope Springs Eternal (Work/Chain) Gang – Union Representative.
I will be putting our list of demands to the hierarchy this evening as follows:
Maisie insists that she be allowed to wallow and flurble in whatever she likes, whenever she likes – and that her efforts to add texture, aroma and additional colour to her coat not be undermined by bathing!
BJ demands raspberry jam on toast EVERY day for breakfast – not just on special occasions.
Mel insists that she have prime position next to the Dog Mother at ALL times – after all she is the original "Baby Dog".
Me – I demand my back rubs be conducted with alacrity and with full focus – by the Dog Father – the absolute minute he is finished eating.
Mack wants a new toy to destroy – EVERY day – they don't call him "Big Mack Attack" for nothing.
George wants to swim with duckies, run with alpacas, bark at cows, be besotted with birds and have adventures EVERY single day.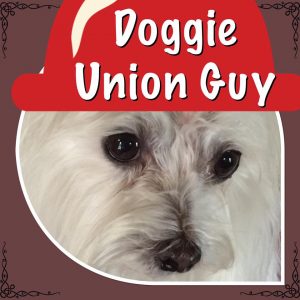 Sandy wants to eat (PLEASE), and then perhaps eat some more?
Snowie wants – Maisie to stop taking over her bed – and her outstanding wages paid, along with her additional duties allowance, working away from home allowance, travel allowance, uniform allowance and incidentals.
The Gang feel that I can best represent their interests and knows that I will not be dissuaded, and have means at my disposal to ensure that I am heard and taken seriously. I mean – have you heard my growl? Have you seen me give the "Stink Eye", have you been subject to my insistent scratching when I want to be picked up – and my coup de grace – I'll nip that Dog Mother on the back of the leg when she's not expecting it – if I don't get my own way.
We may demand sardines every day – not just occasionally as a special dinner add on. I may also insist that bones are given more than once a week – and I may demand that carpet be especially rolled out each time I need to tinkle – so that I don't get my feet wet.
We may have further tail wag sessions and determine what else we wish to demand of our people pets.
Stay posted people – Sophie Jane GWT is on the case and representing doggie interests.