Harry
Harry is a 12 yo black and tan Cavalier who has recently come in to care with us.
Harry is a real sweetie and his tail never stops wagging!  He's very placid and will be looking for a retirement home when we've attended to his medical needs.
Harry's adoption fee will be:  $350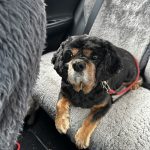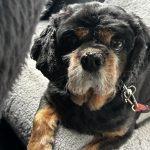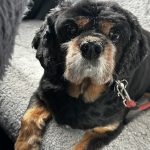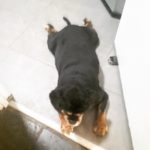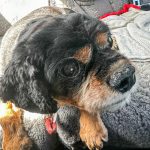 Harry doesn't have a lot of sight – he perhaps sees shadows – but dogs can cope remarkably well without sight.  He's also hard of hearing but does hear if you yell or clap your hands loudly.
He has allergies and benefits from a monthly cytopoint injection to manage these effectively.  He also has dry eye and requires drops twice per day.
He has a bit of pain in his back and is on a twice daily supplement and fish oil products to optimise his mobility.  He is a little portly and his mobility would be improved by losing some weight.
Whilst he's got a few physical issues – there is nothing wrong with the amount of love he has to offer and he would make a fabulous companion for someone who is home and perhaps missing the company of a good dog.
Not quite ready for adoption yet.