Precious (pending adoption)
Precious is a 14 year old Bichon Frise X who came into our care because his elderly owner developed dementia and forgot that she had a dog.  She kept putting him out the front because she didn't think he was anything to do with her.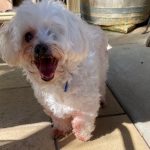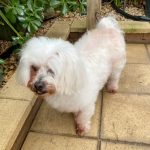 Precious only has one eye and is blind in that eye.  He also came in with some skin issues and a couple of lumps that needed to be removed as he kept chewing on them.
Precious has a loving adoptive home lined up for him once he's had his vet work completed.