Daphne
Da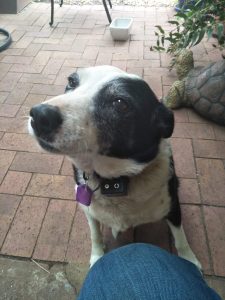 phne is a 13 year old Border Collie who is looking for a new person to retire with. Her most favourite thing is just to sit with her person while they go about their daily business and she'd really enjoy someone who is retired and home a reasonable amount.
She's always been an outside dog – but I'm sure she'd appreciate being inside with her special person.
Daphne is going deaf – she doesn't respond to her name but still responds to a loud clap or sound. Her eyesight is not as keen as it once was, either – but this doesn't detract from her being a very good dog!
Daphne has been quite a timid dog. She has lived happily with a chihuahua previously but she would be most happy as a single companion to a person or couple.
If you'd love a loyal, quiet, loving companion to share your days with, why not fill out an adoption application.