Choco
Choco is a tiny Chihuahua – of about 10 years old – and has no teeth. Choco is tri-colour semi-long coat. He's a sweet little man and just loves cuddles and attention from his person.  He does not like other dogs too much though!  He tells them in no uncertain terms that he'd prefer they were not around.  For this reason, Choco will be looking for a home where he is the main man and doesn't have to share with other dogs.
As Choco has not lived inside as a valued family member previously, he needs a family who have the patience and the time to toilet train him, teach him to walk on a lead and enjoy an outing and allow him to live inside as a  treasured family member receiving regular love, attention and care.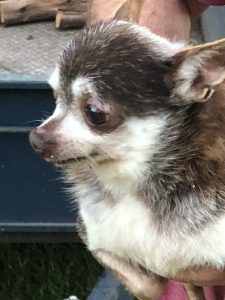 He is  not quite ready for adoption yet – but if you are interested, please complete an adoption application and when he is ready, we will consider those who have applied.