Roxy and Millie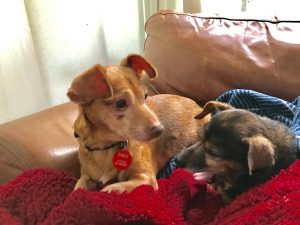 Sweet Seniors
Roxy is a dear old girl who is a little timid initially and looks to her sister, Millie for security. Roxy just wants a place to call home that she can retire in – some lap time, a warm snuggly bed, good food, a short regular walk or time in the park, and love. Seniors have a special quality and are a joy and privilege to care for.
Millie is a lovely little dog who looks out for her sister, Roxy.
Millie enjoys some lap time, dinner time, a little playtime, regular short walks or an outing to the park and just wants a family or special person to love – that she can love in return.
Millie and Roxy are a bonded pair and must go to a home together